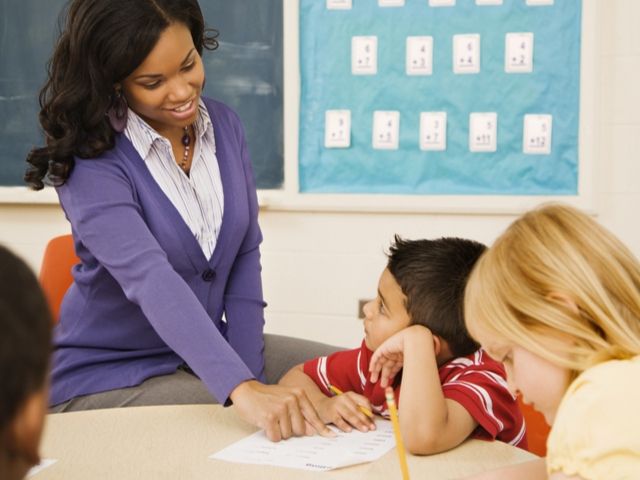 1. Plan for the year
Sounds simple, right? You would be surprised at how easy it can be to get caught up in the day-to-day challenges of teaching, and lose track of your long-term goals with your students.
That's why you should start mapping out your game plan for goal setting in August while you're still enjoying the last few weeks of summer break. Give yourself time to assess goals every week or two, and look at your master list of school year goals then. This is no different than a business owner looking at their goals for revenue and growth quarterly. If you're not assessing progress on a regular interval, how can you know if you're truly an effective teacher?
2. Be positive
Believe us when we say we know how hard teaching can be! We spend our time focused on helping students find teaching degree programs, and providing tips for new teachers.
But we also know how important it is for teachers to stay positive to remain an inspiration to their students. Your students will also perform better when they are encouraged, and learn to recognise their strengths if you focus on them too, while still improving their weaker areas. You will be the main contributor to their self-esteem while they learn outside of their homes.
Don't take that responsibility lightly. Their futures depend on your kindness and encouragement.
3. Learn to balance your monitoring and direct teaching methods
Your students will respond to different methods of learning, and they will need to learn how to work independently, in groups, one-on-one with you, and in other environments. When you design your monthly and year-long curriculum strategies, think about how you will mix it up, in regards to your teaching methods and styles. This advice for first year teachers will help keep your students' minds fresh, and will help develop their ability to work and learn in various ways.
4. Practice sound classroom management skills.
It can be easy to get frustrated, or let your inner child out; especially when managing a classroom of children. No matter how grown and 'adult' we become, simple stress can make us stoop to a toddler's level.
However, we cannot stress enough how important classroom management is!
So, do whatever it takes—write out your own 10 Commandments, or a list of sayings that remind you how to act towards your students in times of stress. Find ways to remind yourself that you are the adult in the room. Implement meditation, for yourself and your students. Just remember, that no matter how hard it may be sometimes to be an adult, you have to act like it in your classroom.
5. Tap into your peers for knowledge and insight
The next time you are working lunch room duty or have time to interact with fellow teachers, make the most of it. Ask questions, share strategies and open up!
These educators are in the same place you are and are trying just as hard to help themselves and their students as you are. This takes a strong support system among faculty and staff to remain good role models and effective educators.
One of the best tips for beginning teachers: Communicate with faculty and participate in your school events to help out as much as you can. Schools need teachers for more than just their classroom skills. It can only benefit your career as well, and will give you insight into how your peers manage teaching!
6. Address misbehaviour as quickly and appropriately as possible
The last thing you want to do is try to be the 'cool' teacher and let inappropriate behaviour slide. This is one of the most critical tips for first year teachers.
It sets a bad precedent and only prolongs the behaviour until it escalates too far. If that happens, then your principal will likely hold you accountable for not acknowledging and fixing the problem—not to mention what it does to classroom management. That's why you should be diligent about solving classroom behaviour problems as quickly as possible. You also need to make sure to apply the most appropriate solution. That's why it's important to understand the standards and preferred methods for discipline at your school.
7. Set clear expectations with each assignment
Make sure you review the goals of each new area of your curriculum and for each new assignment. When students have a direction to point their mind's compass, they can go into the lesson with a clear idea of how they should approach or absorb the information.
This will also help students take good notes and start thinking conceptually about the topic as soon as you begin your teaching. Sometimes the best advice for first year teachers can be a simple as setting clear expectations!
9. Set rules for the classroom
This can be effective for elementary, middle and high school students—especially if you set expectations early. When it comes to classroom rules, remember to keep them simple, and try to have fun with them.
Kids are used to being told what to do, and have a tendency to roll their eyes when adults go overboard with the lectures. If you can think of ways to incentivise good behaviour, then do it. Positive reinforcement is always better than dangling punishment over them to maintain law and order in the classroom. This piece of advice for first year teachers can save you lots of headaches!
10. Teach respect and stress anti-bullying
Remember when we said you should take care of discipline issues as soon as they arise to keep them from spiralling out of control? This advice for new educators takes that philosophy one step further. With so much time spent interacting with video games rather to humans, today's young learners need to practice mutual respect with their peers and teachers on a daily basis.
Create exercises that reward diversity and show the ill effects of treating others unfairly. This will help create a culture of respect in your classroom, and help your students learn their own lessons in being empathetic towards others.