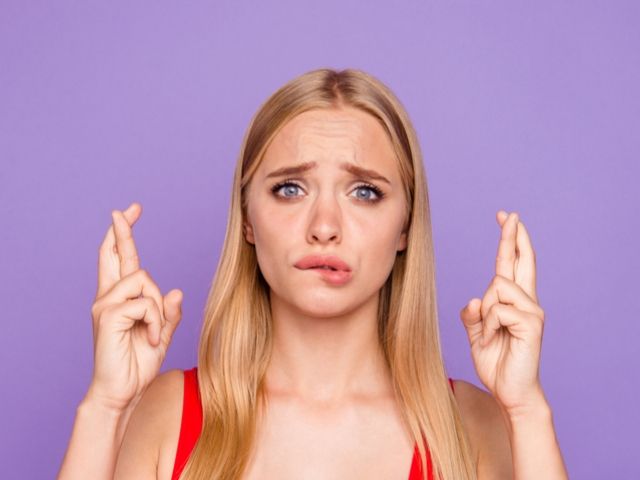 How many of the requirements does it take for you to feel "good enough" or "qualified enough" to apply for a job?
Have you avoided applying for senior or leadership jobs because you think you wouldn't be in with a chance?
---
This article gives tips and advice on how to be just 10% braver when applying for jobs in education that you think are out of your reach.
The book 10% Braver, by Vivienne Porritt, Keziah Featherstone. Written by leading members of the grassroots #WomenEd movement is an inspiring guide for women assuming roles of influence throughout the education system.
The book has several inspirational voices about the education system and its under-representation of female leaders. It covers issues from gender stereotyping in leadership, to females taking more risks and ditching inhibiting thoughts about perception and "being judged".
For example the book highlights the skew towards male headteachers in secondary schools:
"62% of teachers in secondary schools are women but only 39% of secondary headteachers are female.
It also demonstrates the difference in gender about salary expectations and negotiation:
Only 7% of women in education will attempt to negotiate their initial salary offer, compared to 57% of their male counterparts".
This is not a singular occurrence either, alongside this book, research from the National Education Union (teachers.org.uk) into gender pay gaps found:
"The pay gap is… far wider for teachers in leadership positions. On average, women head teachers in all state funded schools earn £5,700 less than their male counterparts. While this is mainly due to the higher proportion of (better paid) secondary heads who are men, there is nevertheless a gender pay gap of £2,800 for heads of LA nursery and primary schools and £2,900 for heads of LA secondary schools".
Following this I reflected on how this may impact education recruitment for senior roles and leadership positions for women:
-How many opportunities for progression have female educators missed out on?
-How much salary have female educators lost through fear or feeling of not being "good enough" or "qualified enough" to apply for higher paid positions?
How could women be "10% braver" when searching and applying for jobs in education?
Documented research from Hewlett and Packard in 2014 found that men would apply for a job if they met just 60% of the requirements whereas women would apply for a job only if they matched the requirements 100%.
Although this was based in the technology sector and not in education, it supported existing research of gender based articles into self confidence and self esteem.
From Hewlett and Packard's research a writer for the Harvard Business Review –Tara Sophia Mohrsceptical of the finding believed there was more to the research than meets the eye and thus conducted her own research. She surveyed over a thousand men and women, predominantly American professionals, and asked them;
"If you decided not to apply for a job because you didn't meet all the qualifications, why didn't you apply?"
Barrier 1-Don't have the right requirements
The survey uncovered further underlying reasons as to why women, more than men didn't apply for the job. Rather than confidence issues, which was the least stated, the survey showed that they seen qualifications or requirements as the first barrier to being hired. Tara goes on to state that it was not considered that undocumented expertise, relationships or personal qualities could overshadow the requirements for the role.
Barrier 2-Don't want to Fail
Another reason for women not to apply was the fear of failure, 22% they didn't want to "put themselves out there to fail", whilst only 13% of men said the same. Why would women be more afraid to fail? Is this a characteristic of being female, or is there another reason for this?
Historical research and this article from HBR questioning whether women take as many risks as men, argues that women are more risk averse than men in general, especially under stressful conditions. This article also states that because of the belief that women are perceived are more risk averse, risk-taking is not as fully supported for a females as it is for males.
Barrier 3-I was following the guidelines
A high ranking issue for not applying was the barrier of following the guidelines of application, I.e. " I was following the guidelines of who should apply". Women more than doubled men inciting this reason, showing that women more inherently felt they had to "follow the rules". Tara points out that these barriers for women are more about perceptions of the hiring process rather than themselves. "They see the recruitment process as more serious than it actually really is".
So how can we take learning from this research and be 10% braver in our job search and applications?
Don't Follow The Unwritten Guidelines too Tightly
In certain studies between men and women, they have found that women will follow guidelines more strictly than men. This is evident in society where females are often rewarded for following suit and behaving "like a lady", yet males are disregarded for misbehaving as just "boys being boys". This means if a job advert has heading such as key requirements or essential skills, this could be taken literally by women to be just that, a hard rule of even being able to apply. Thus we have taken ourselves out of the running before the first hurdle.
The tip here as Tara gleaned from her research is to not take the recruitment process so literally. To undo the years of societal bias and conditioning. To see job descriptions, requirements and person specifications as flexible and able to bend for the right candidate, not a sturdy big wall in our way.
Don't get hung up on the requirements
Don't get to hung up on trying to fulfil all requirements listed on the job description. From schools I have spoken with, the majority of times the job descriptions include their wish list of what an "ideal" candidate would have. And here's the big secret….they don't exist!
Recruiters don't actually expect you to fulfil 100% of the requirements. Take your chances, and apply for the job. You are not just a tick list of requirements, you are a person, with skills and experiences like no other, you are enough
Believe that you are not wasting their time!
Within these survey and polls, women felt that by not fulfilling all the requirements, they would be wasting the time of the recruiter, whereas men did not really consider this to be much of an issue. Women therefore didn't apply due to this fact.
Due to this this I think we need to understand that the recruiter will receive many applications that they will deem unsuited to their schools requirements, after all, only one person can be successful for the role in the end. You aren't wasting their time by applying for their job, you are giving them options and the chance to hire a unique candidate.
Don't be afraid to "Fail" -The worst that can happen…is nothing!
Yes, that's right, absolutely nothing, no reply, no scorn of time wasting, no requirement fulfilment backlash. Life will remain exactly the same and you will continue on with your life and your job search to find the job that you fit and that fits you.
I imagine there may be some disappointment if this does happen, but at least you know you give it a shot, as my Nana always says, you have to be in it to win it! Additionally, they could give some really helpful feedback about other openings or ideas on how to increase your chances of securing your next role. You can always try our 5 tips below on how to be 10% braver and get a job you are not qualified for…
5 ways to get a job that you think you are not fully qualified for:
1. Emphasise your skills and abilities you do have
Focus you application on what you do have to offer the employer. Think of job descriptions and ideal candidates as just a wish list. Give them a real person with a real person skillet learned over time from experiences, both positive and negative. When submitting your application form to the school try to reflect the skills, words and descriptions used in the person specification in the description sections of your previous roles. By mirroring the language and phrases used, this connotes familiarity to the recruiter and shows you are able to tailor your previous experiences and skills to the specifications of the listing.
2. Utilise your cover letter to prove you are a good fit.
Your cover letter or application letter is your secret weapon when applying for roles you feel you do not meet all requirements for. Most schools will have a pretty standard application form where you will input your personal details, education and employment history, but you can really promote your personality, qualities, skills and experiences in your letter.
First of all, start with how you can fulfil the tasks and responsibilities of the role with examples.
Let use a teacher applying for assistant head as an example:
Many teachers accept further responsibilities as they grow in their career which can help develop leadership qualities without having the official title. You may recall you were asked multiple time to help senior members of staff with certain projects or with some problem areas in the school, you could be the member of staff other members of staff go to for help and advice. All these example show how you have the capabilities of a senior role.
You can add in further skills developed through teaching that are transferable to other education roles, such as conflict resolution, delegation, decision making, budgeting financially and communicating effectively.
3. Show willingness to learn the skills you may be lacking.
Be proactive and start reading or developing some of the skills before you interview, are you applying for subject head of IT and need to have used a particular tech tool? Get ahead of the game and start to learn the tool, or undertake the learning that will be needed for the position you are applying for. This is also a good point to raise when questioned about your enthusiasm and personal qualities, someone who is proactive and shows willingness to learn will help persuade the employer you are passionate and dedicated to your career and this role.
4. Have some really good references that can help promote you to the employer.
Having a single or multiple endorsements for your skills and experience could increase your chances of securing an interview even if you don't fulfil some job requirements. Schools are looking to glean an idea of what kind of person you are along with what kind of educator, the best way to get a good indication, is speaking to your previous employers and people who have know you professionally. Think of how we review restaurants and hotels, we read reviews as to other people experiences and trust peer opinion more as we believe it to be unbiased and authentic. The same applies for job references.
So go and speak to your biggest professional fans, it doesn't always have to be your previous head, it could be a course leader, a senior member of staff, a colleague of many years, someone with respect within the educational community or high amount of influence, getting a glowing recommendation from a trusted source will certainly help you on your way.
5. Show them why you want this job…
You have mirrored their language in your application, showed your have the capabilities and qualities with examples in your cover letter, you've started to undertake the learning that will get you a step up and have some impressive references and secured an interview.
But then they ask……why do you want this job? Why go though all this effort?…this is what you need to show, your enthusiasm and dedication to this role.
Show how the build up of many years has lead to this interview, how you have been 10% braver and applied for a job you didn't think you could get, and yet sit on front of them, 1 answer away from the job offer. Show them excitement for a new challenge and passion for the education sector. Show them why you are THE person for this job!
Conclusion
Applying for any job is a daunting task, especially if it involves taking a step upward or away from your comfort zone. Try our tips above and put yourself out there, nothing safe has ever lead to anything challenging or exciting. You may not be 100% perfect for the role, but neither are the other candidates!
So why not be 10% braver and apply for that higher position your may not be fully qualified for…
Still don't think your'e ready? Read this kick-ass article by career coach Kristin Walker about why you SHOULD actively apply for jobs you're not 100% qualified for.
Be brave, be bold, be you. Remember you are enough!