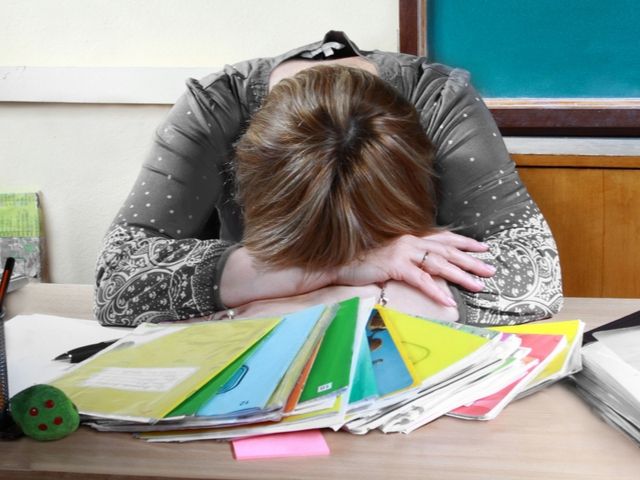 If like me, the expression "compassion fatigue" is new to you, I suggest it's a term that we make ourselves familiar with as Teachers.
It's not a phrase that is exclusively used in relation to working in schools, but when I was recently introduced to it, I felt like feelings I'd had, were suddenly given a name, and therefore, recognition.
"Compassion fatigue" is often defined as being linked to the feeling you get when you've been shown so many people in need that you ultimately just accept it.
So much so, that charitable organisations just can't play on your emotions any longer in order for you to part you with your cash.
We accept that there is suffering in the world and we realise we can't solve it alone so we switch off.
How could this impact Teaching?
In relation to working in schools, I feel that the phrase takes on a whole new meaning.
Compassion fatigue can present as feelings similar to stress, such as lack of sleep or feeling restless. It can also present as numbness or an inability to take on board any more emotional "baggage".  
I'll give you a personal example and I'm sure that the vast majority of teaching staff can relate;
In one cohort I had one "looked after child" (LAC), two children living with grandparents on a permanent basis, both of whom had been witness to severe domestic violence. I also had a boy who was neglected as a child meaning his unable to write his own name as he headed into Key Stage two.
There was also a boy who had extremely violent behavioural problems, a girl who was continuously brought to school late and in dirty clothes…. The list goes on but you get the idea…. The vast majority of the class had extreme emotional and behavioural issues. Aside from the problems this presented with differentiation, seating, behaviour etc I never took the time to think about how this affected ME!
You Can't Pour From an Empty Cup!
I know that our first impulse as teachers is to put the children first, and rightly so. However, there comes a point where we have to use the phrase "you can't pour from an empty cup".
The amount of emotions we experience each day around a range of children and their individual issues is extreme…. I would argue this is unparalleled in most other areas of work.
Whilst our main concern is supposed to be with children's learning and ensuring all children make good progress, we can't ignore the emotions around us, and I would argue that teachers who are good at maintaining positive relationships have to use their own emotions to show empathy with every child every day.
This is utterly exhausting! Keeping in mind that we spend a lot of time with the same group of children, and often come to love them as if they were family.
That's just not sustainable without there being some effect on us! I simply hadn't realised this was an issue I could outwardly address until I was introduced to the correct language. Compassion fatigue is a phrase I believe we should use in schools more.
Tackling Emotional Tiredness
It's a simple and effective way to explain to your colleagues that you're having a tough time emotionally and I believe it should be in all staff's vocabulary in school.
Sometimes we're not just tired because we've had a long half term, a massive workload, and sleepless nights. Sometimes we're just tired of giving. We're very much nurturing a one- way relationship in school when we're the teacher… it's extremely rare that we get the chance to offload our emotional baggage.
So how can we help ourselves?
Many of us have already found that a bottle of wine at the end of the week (or even midweek) is a great way to unwind, but it's perhaps not the best option when it comes to our long-term health.
Try these other suggestions, many of which I'm sure are a common-sense approach which you already adopt, in order to help you deal with emotional tiredness;
1) Five minutes of silence is hard to find in school, but even if you have to hide in the stationery cupboard at lunch time…. do it! Quiet time to evaluate how you feel, and reflect can be invaluable.
2) Find a colleague that you can confide in and offload on them! Of course, you'll have to offer the same listening ears to them, but colleagues really are best placed to understand what you're feeling.
3) Have a little treat! This may be a small sugary snack or reading a page of that book you've been trying to get into- just something that is exclusively for you can really make a difference to your mental well-being.
4) Have a soak when you get in. A dip in the bath can sometimes seem like too wild of a dream when you have planning and marking and perhaps children of your own to organise when you get home. But if you can, treat yourself to the full works; candles, bubbles, and music.
5) Read more on the subject. If you've read this introduction to the term "compassion fatigue" and it strikes a chord, a simple search on an internet search engine will reveal more on the topic and could help you to understand how you feel, how you can help yourself and how you can manage the expectations you put on yourself.
Written By a Guest Author-Elizabeth Charles