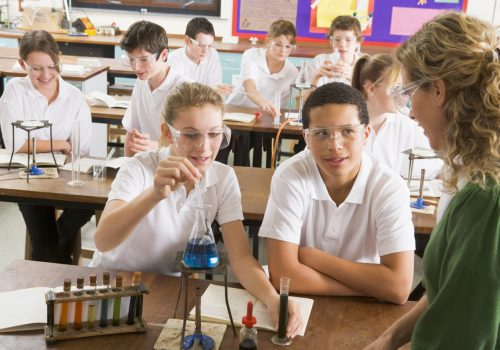 Holistic Teaching Approaches
Here at docere, we know that teaching isn't simply about literacy or numeracy skills. It's about helping the upcoming generations to develop life-skills, values and autonomy – helping them to be "responsible and caring citizens capable of contributing to the development of a just society", as stated in the 2000 national curriculum.
This curriculum also names the development of young people's "awareness and understanding of, and respect for, the environments in which they live" as an overarching purpose of education, and talks of commitment "to sustainable development at a personal, national and global level".
Repeatedly, studies on a global and national level have shown that many young people rank global environmental issues highly among the issues that most concern them.
This isn't new; educators have been pushing the inclusion of the environment in education since the 1970s at least. The theories of outdoor learning and experiential education – the effects on students' team skills, self-awareness and awareness of the larger ecosystem – go back much further.
But educators have been disappointed by the UK's most recent – and much-anticipated – 25-year plan to improve the environment, launched at the beginning of January. An NAEE handbook (National Association for Environmental Education-Opportunities for Environmental Education across the Secondary Curriculum) mourns that the plan "seems to miss a fundamental point", namely that schools and teachers play "a key role in influencing public attitudes and empowering students" to support more progressive attitudes towards environmental protection. It said the plan pays only "lip–service" to the challenge of developing environmental awareness in the next generations.
However, schools across the UK – supported by independent or charitable organisations (like the NAEE) – haven't simply decided to wait for better national curriculum guidelines.
Head teachers are seizing every opportunity to raise the profile of their schools by enrolling them in national or local schemes with 'green' themes. SEEd (Sustainability and Environmental Education), an Education for Sustainable Development organisation that provides resources, information and even professional development opportunities, offers a Sustainability Curriculum to help schools develop their 'local', 'complementary' curricula.
It says (in a blog on its Sustainability Curriculum) research increasingly shows that kids who learn about the environment, their place in it and their responsibility for it "develop positive attitudes to their futures, enjoy learning which means they are more likely to be better behaved, are more engaged in class and attain better results".
Primary school teachers say their pupils derive great benefit from 'eco-involvement'. Not only does it help them develop life skills – planting, construction, project planning – it can help give them pride in their school and their local community. The group nature of the activities helps draw out children who may find school life challenging and encourages friendships.
It would seem there's a tendency for interest in the subject to peak between the ages of 9-14. In secondary schools, a curriculum and a teaching structure dictated by subject can crowd out cross-curricular work. Students also have less time as workload increases for GCSEs and A-levels.
That said, there are secondary schools that have decided to adopt whole-school approaches to the issues and have found ways for subject departments to cooperate.
The Wildfowl and Wetlands Trust (WWT-in an NAEE blog, Giving learners the wings to fly) has been able to access funding to support the use of technology during learning; they've established new workshops to enable students "to experience what it really is like working as a conservation scientist". So secondary pupils get to use cameras and GPS trackers which, says WWT, "brings a new level of engagement for lots of learners".
The discourse at a national level may be problematic, but for teachers, schools and resource providers, the prospect of providing students with skills that satisfy ethical, social and educational standards is proving impossible to resist.