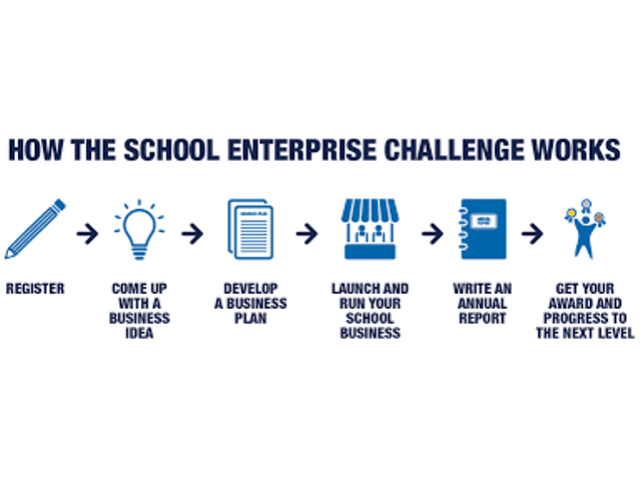 What better way to get your students ready to go out into the real world than to set them the challenge of starting up their own enterprise. They can go head to head with their fellow classmates and compete to create the most successful business enterprise. There are a few sites which offer this service to schools.
For most of the enterprise programmes, students will have to set up their own business. School business is owned by the school and is staffed and managed by the students. They will usually be allowed to have support from teachers, however.
This will help students to get more essential skills and give them hands-on experience in managing a business. It also helps to build young entrepreneurs, which the typical school system doesn't really offer. It can also generate real profit for your school, depending on which programme you decide to use.
The School Enterprise Challenge
One of the most popular sites which schools can use to do this is 'The School Enterprise Challenge'. They are an international awards programme for schools all around the world and give away up to $50,000 in prizes for the most entrepreneurial schools, teachers and students.
It is a free programme, which guides and supports teachers and students to plan and set up real school businesses. It gives students the ability to develop essential skills in business and entrepreneurship in a practical, fun and innovative way. The challenge can also allow schools to generate a little extra income for their school, or a chosen social cause.
In the past, many schools have set up an amazing variety of businesses.
The School Enterprise Challenge provides a suite of inspirational educational resources and tools. It is a vibrant support programme and offers social media networks to lead teacher and student teams through the school business journey.
It allows students to have the ability to come up with multiple, viable, business ideas and also teaches them how to write a robust business plan. Then they can launch a running and sustainable business.
The School Enterprise Challenge can help students to develop lasting skills for business and entrepreneurship in a practical, fun and innovative way. It can also be good for teachers, as it can help to develop skills for student-centred learning and experiential education
The deadline for entering 'The School Enterprise Challenge' is 31 October 2019. In 2018 alone, there were over 9,000 schools from over 100 countries registered for the programme, with over 68,000 young students taking part and benefiting from running a school business.
Find out more about The School Enterprise Challenge here.
Prince's Trust Enterprise Challenge
The Enterprise Challenge is fully-funded. It is a competition which is designed to increase young people's understanding of business concepts and how they can apply them. They can get hands-on interaction with mentors to help students build their confidence, employability and self-efficacy.
The Enterprise Challenge is an annual, national competition. It allows secondary school students to learn about establishing and running a business. They do this by playing a business simulation game. The top five best performing teams in each region then compete to receive a coveted place in the National Final. They are then able to pitch their developed business ideas across to a panel of expert judges.
This is quite a unique competition, as it allows students to benefit from being mentored by business professionals who are experienced in the industry. Students can acquire a lot of knowledge and skills from these mentors and learn a lot about various aspects of a business.
In the past, some of the winning teams have been awarded trips to the London Eye, tea at Harrods, tea with the Prime Minister's wife at 10 Downing Street, a trip to ITV News to meet Natasha Kaplinsky, a tour of Clarence House and also a tour of HM Treasury.
The Runner Up team will receive £2,000 in prize money for their school. The third-placed team will be awarded £1,000. All finalists will receive a goodie bag and all students receive a certificate.
The winning team also gets to be supported by Mosaic, so they can develop and launch their business idea, with prize money of £500. The winning school also receive an additional £2,000.
Find out more about The Prince's Trust Enterprise Challenge here.
Virgin – Make £5 Grow
The Virgin – Make £5 Grow is another really good enterprise programme. However, it is more aimed towards Primary School children, although younger and older students can take part too.
Virgin Money provides lesson plans, tools, resources and a loan of £5 per pupil to help them learn about enterprise, by starting a small business and making their money grow.
Pupils are split into groups and they have to pool their money together. They will be asked to design and develop a product or service, using the money they've acquired. At the end of the programme, the school will arrange for pupils to sell their product or services at an event such as a Christmas Fair, Summer Fair, Parents' Evening or Sports day.
At the end of the programme, all teams will need to work out their total profit made and pay the original loan back to Virgin Money. The school gets to keep all of the profits made and they can decide themselves what to spend the money on.
The resources and lesson plans provided by Virgin Money will allow teachers to explain to students; what enterprise is, why teamwork is important, how to develop ideas, how to check whether the idea will work and keep them on track to succeed, running a judging panel and most importantly how to market and sell a product or service.
They also provide pre-printed certificates which can be handed out to all partaking students at the end of the programme. They provide leaflets for parents and children, which explains what the programme is all about.
The pupils also get a free pack containing a wristband and badge.
It's a flexible programme as it can be run easily over a couple of weeks, in or around existing lessons.
Find out more about Virgin – Make £5 Grow here.
The Eden Project
The Eden Project is an educational charity, connects people to the living world, exploring how everyone can work towards a better future.
They offer a School Workshop called Eden Enterprise Day. This workshop is delivered by Eden's Education Team in your school. It can be adapted to suit the school, current issues or a topical scenario. It is a one-day workshop event in your school, suitable for years 7, 8, 9 and 10.
Eden Enterprise Days can be adapted to suit your school, including the theme.
Following an initial team-building activity, the students are set a series of challenges to come up with activities, products and marketing ideas. This will help them to build a sustainable business.
They form themselves into a new company and then pitch their plans to the rest of the group who vote for the winners.
The workshop takes place at your school.
This workshop enables students to focus on successful teamwork and collaboration. They will be challenged to maintain the motivation to see a task through to the end. Creativity and imagination will be used to help them solve challenges. The workshop will enable students to utilise their presentation skills and present to a large audience. They will develop their understanding of sustainability in a practical context and develop their sense of place and pride in where they live.
The Eden Project School Workshop costs £600 per group plus VAT. Maximum group size is 150. This cost includes a facilitated full-day workshop, with two members of the Eden Education Team at your school. Also, the cost covers all equipment needed for the workshop.
Find out more about The Eden Project here.
Young Enterprise
Young Enterprise work directly with young people, teachers, parents, businesses and influencers. They help to build a successful and sustainable future for all young people and society as a whole.
They use hands-on employability, enterprise and financial education programmes to do this. Their main aim is to reduce youth employability and help young people to understand their potential, beyond education. They try to build a generation who love to learn, work and live.
One of the enterprise programmes which they run is called the Tenner Challenge. It is quite similar to the Make £5 Grow challenge from Virgin Money. However, Young Enterprise runs a lot of different programmes, meaning you can choose the best one for your class/school.
The Tenner Challenge is a free National Enterprise Challenge. It is used to help students to gain confidence and prepare for the world of work. Each student is pledged £10 from the Tenner Bank and they use this start-up capital to get their enterprise off the ground. They have one month to set up their business by coming up with an idea for a product or service. During the challenge, students are encouraged to think ethically and sustainably and have the opportunity to make a positive contribution to society. The entry for Tenner Challenge opens on 24 February 2020 and ends 20 March 2020.
In 2017/18 a record number of 27,179 11 to 19-year-olds took part in the challenge.
At the end of week one and two, students have the opportunity to enter a weekly challenge competition. The first challenge competition is logo design. They look for logos which create impact and communicates easily the product or service to customers.
The second challenge competition is a sales pitch. They are looking for a good sales pitch which can sell your product in 60 seconds.
At the end of the competition, there are five different awards. The awards are; Most Profitable Business Idea, Best Team, Most Inspiring Person, within a team or an individual budding entrepreneur, Tenner for Good and Best in Sustainability.
The students can keep all profits made at the end of the competition, after paying back their £10 pledge plus £1 legacy contribution.
Find out more about Young Enterprise here.
These are just a few different ideas which could be used to bring something new to the classroom.