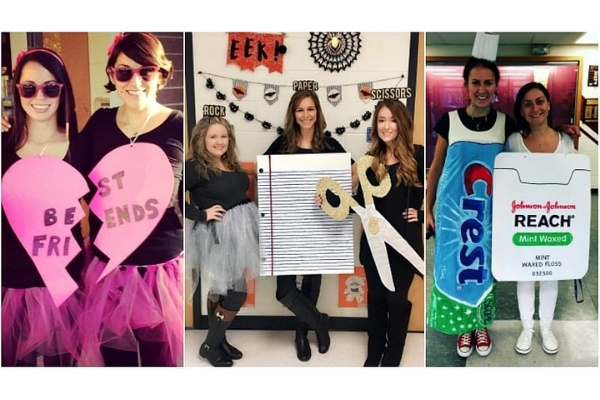 Since trick or treating has most likely been canceled this year all around the UK due to Covid-19, there's no reason why we can't have a little fun and get dressed up for the occasion before schools break up for half-term. Maybe you could host a Zoom costume competition or a disco with your class, friends or family. That way you could also take advantage of the Zoom backgrounds. You can sign up to backgrounds using this link and choose between many different Zoom backgrounds that will definitely make you stand out from the crowd.
Here are a few costume ideas so you can still have some Halloween fun:
English Teachers
Why not try and be creative dressing up as a literary character and instead, dress up as a grammatical character instead. For example, you could dress up as a comma, or a semicolon as shown in the image on the left.
Maths Teachers
There are definitely some creative maths teacher outfits you can go for. Why not try dressing up as a superhero with an algebraic symbol on the front. Or you could even dress up as a pumpkin with a pi symbol on the front. Another option would be to dress up as a giant calculator like in the image on the right.
Science Teachers
The obvious costume choice for a science teacher would be either Frankenstein or perhaps Albert Einstein. However, you could get very creative with this and maybe try dressing up as an element from the periodic table like pictured below.
History Teachers
A good historic costume is a fantastic teaching opportunity and can really help your students. Henry VIII, Spartans, Victorian surgeons, Suffragettes; you name it, there's a lesson plan in there somewhere.
Art Teachers
Creativity is what art is all about! So, what better time to get creative than Halloween. You could be a Picasso painting, Vincent Van Gogh after the unfortunate ear incident or maybe take some Andy Warhol inspiration and dress up as a Campbell's Tomato Soup.
Drama Teachers
There are so many options to get creative with a drama costume. You could keep it simple and go for something like Snow White and the Seven Dwarfs. Or, you could go for maybe a Shakespeare character like Macbeth. There's so much room for creativity.
It doesn't matter whatever subject you teach or enjoy the most, a creative costume will definitely put a smile on everyone's face. Halloween might not be everyone's favorite time of year, but it's a great idea to have some fun with it.
Here are some Halloween decorations which you can try out either in your classroom or at home:
Turn Your Door Into A Mummy
A teacher's door game says a lot. So try wrapping toilet paper (or masking tape) around yours and add some construction-paper eyes to it to say that your room is cute, crafty, and thrifty.
Create a ghost out of paper rings
How cool does this ghost look! You can make one for your entranceway or make a dozen all over the classroom. You could also start one and then incentivize your students to add rings for every book they read.
Turn milk jugs into ghosts
Can't get enough ghosts? All you need is milk jugs, battery-operated tea lights, and a black marker to make a slew of these for your desk or windowsill! Find out how to make these milk jugs here.