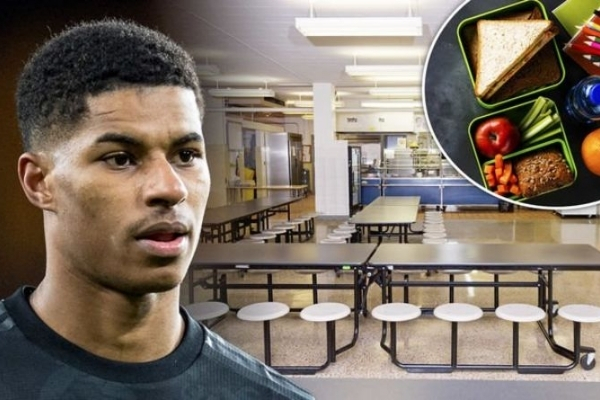 Unless you've been living under a rock, you will surely have heard how extremely vocal Marcus Rashford has been with his efforts to put an end to child food poverty.
What is the campaign?
Rashford has been working really hard to try and extend the government's free school meals campaign. This is so that it will still function over the holidays until Easter 2021, instead of only during term time.

The Manchester United footballer has been extremely passionate about his campaign to fight child hunger across the country. Due to his efforts over the summer, he was able to completely change the course of the Government's decision in order to provide free school meals for underprivileged school children during the summer holidays.
So far, Boris Johnson has resisted making a similar U-turn to the one earlier this year, when he extended free school meals through the summer holidays due to the coronavirus pandemic.

It followed an extension earlier in the year for meals to be made available to children who are eligible for free school meals during the Easter holidays. However, the Labour bid to extend free school meals was rejected by MPs in the Commons this October. The government blocked the bid and decided not to follow in the footsteps of Scotland, Wales, and Northern Ireland.
They stated that they had already given councils £63 million in funding for financially disadvantaged families due to Covid-19, in addition to increasing welfare support by £9.3 billion. Even though Labour's bid was rejected, several businesses have also promised to help Marcus Rashford and begin campaigns of their own, to provide free school meals during holidays. Rashford has also retweeted the locations of those businesses that have stepped up.
Rashford, however, has since stated how disappointed he is with the prime minister and the rest of the UK Government when he took to Twitter to express his frustrations. He also launched a petition urging the government to double down in their efforts to end child poverty.
"Put aside all the noise, the digs, the party politics and let's focus on the reality," Rashford wrote on Twitter. "A significant number of children are going to bed tonight not only hungry but feeling like they do not matter because of comments that have been made today."
There have now been over one million signatures on Marcus Rashford's petition calling for children from families with low household incomes to get free school meals. If parliamentary petitions get more than 100,000 signatures, the subject is considered for a House of Commons debate.
In his petition, Rashford says ministers should "support vulnerable children" by implementing three recommendations from the National Food Strategy.
Why is it important?
Currently more than half of all primary school children miss out on a healthy school meal. Poverty is one of the main reasons behind this.  Free school meals have been shown to improve health and help tackle health inequalities, as well as removing the poverty trap faced by parents trying to move into employment.

Less than half of all primary school children actually take advantage of the healthy meal offered during the school day. Some of these children are entitled to free meals but do not take them because of the stigma attached to this, or a tedious application procedure. Others, many living in poverty but not entitled to free school meals, are unable to afford them, or can only afford them for a couple of days each week. Still, others do not because of other factors, including not being able to sit with their friends, inadequate canteen facilities or insufficient portions.
With the introduction of nutritional standards for school meals, children who take advantage of them are now guaranteed at least two of their five daily portions of fruit and vegetables, along with other essential vitamins and minerals, which plays an important role in developing healthy eating habits.
Consumption of healthy school meals can influence children's food diet at home, helping to develop healthy eating habits and exposing them to foods such as new types of fruits and vegetables which they might not otherwise have tried. Whilst the consumption of junk food is also linked to poor behaviour, eating healthier school meals has been shown to improve classroom behaviour and academic performance.

All this is particularly important for children coming from disadvantaged backgrounds, who are least likely to eat a healthy diet and thus suffer from related healthy inequalities.
If you would like to show your support Sign The Petition.