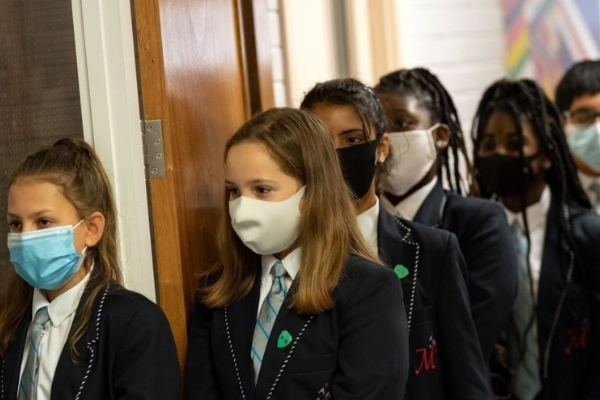 On Saturday, the prime minister said schools, colleges and universities will remain open between 5 November and 2 December when the rest of the country shuts down again.
Schools must stay open because the harm to children would be far too great otherwise, the leader of the opposition, Sir Keir Starmer, said. The Labour leader insisted that schools need to stay open and measures should be put in place to "manage the risk" when he spoke on The Andrew Marr Show on BBC One. However, there have also been a lot of teachers who have had different opinions to the decision of keeping schools open during lockdown as it is a huge health risk.
Mr Starmer also criticised the government for the missed chance of a "circuit-breaker" lockdown during half-term.
A leading scientist has told Sky News that keeping schools open during the four week lockdown could mean infection rates stay higher for longer and could result in an extended lockdown.
Former chief scientific adviser Sir Mark Walport said the November restrictions were not as "severe" as the first time round, and that there was a "possibility" the restrictions may need to stay in place for more than four weeks.
In an interview on Sunday, Walport warned: "It's unlikely this time to come down quite as fast as it did during the first lockdown because we have got schools open."
According to the National Education Union (NEU), more than 70,000 teachers and support staff want schools to close – except for the children of key workers. The union has also said that schools should be moved to a rota at the end of the lockdown period. There is a lot of conflicting data on the matter, with scientists saying the role of transmission in children is not yet fully understood.
Kevin Courtney, joint general secretary of the NEU, said: "It is clear from Office of National Statistics data that schools are an engine for virus transmission. It would be self-defeating for the government to impose a national lockdown while ignoring the role of schools as a major contributor to the spread of the virus."
Mr Courtney also said: "The National Education Union called for a two-week 'circuit break' over half-term to include schools, which the Wales government and the Northern Ireland assembly have done – but the government in Westminster has ignored this call. More severe measures are now called for as a result. The government should not make this mistake again.
Keeping schools open will be difficult since teachers will need to self isolate for 2 weeks if they have any Covid symptoms. Since it's almost winter which is prime time for cold and flu, these are also symptoms of Covid-19, meaning that a lot of teachers may be self isolating at the same time.
I think it would be best for schools to close during the 4 week lockdown period. As it will help prevent a further, longer lockdown in the future.