Supply Teaching North East England
Whether you are an NQT, In-Between Schools or a Seasoned Teacher, we have Supply Jobs to suit all Experience Levels and Supply Needs. 
Register As A Supply Teacher For Free Today!
Why Register with Docere Supply?
Docere is dedicated to helping you find the school and position that works best for you. Supply work is demanding but never boring! We try our best to provide you with the most suitable roles based on your experience, needs, personality and availability.
---
Digital Availability Calendar
Choose your availability when you access your teaching dashboard & amend anytime. No need to ring us each week.
Digital Timesheet Submission
Add your timesheets anytime of the day, view, amend or delete any entries. These will be submitted directly to the school/s you work for.
Teaching Profile & Multiple CV Creation
Create your teaching profile for recruiting schools to view, and/or create targeted CV's for permanent listings.
Register Once for Supply & Permanent Roles
To maximise your teaching prospects and chances of receiving a job offer. When you register as a supply teacher with us, you will also have access to apply for non-supply jobs as well. This way you can start with supply work to see what you like, and then move onto more permanent roles if you wish.
Dedicated Supply Consultant
Speak directly with a dedicated consultant who knows about the schools we work with and the areas they are located. Tell us about your needs as a supply teacher, what roles you are comfortable with, your teaching experience, what kind of schools you would be interested in teaching at and your preferred locations.
Safeguarding & CPD Training
We ensure all supply staff have essential safeguarding, child protection and prevention training . We want you to feel as comfortable and as confident as possible when you enter a new school, knowing you have the all the knowledge you need.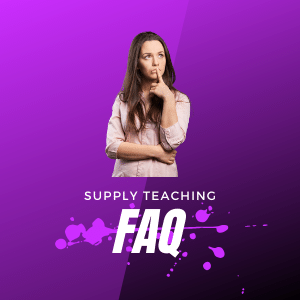 How Does Supply Teaching Work?
Supply Teaching enables you to work in teaching but with a more flexible approach. We put you in the driving seat. You tell us how many hours you are looking to work, what subject and experience you have and what locations you are able to teach in. You don't have to accept a position or supply role you feel uncomfortable with, we wouldn't expect you to work in any situation or environment where we wouldn't like to work. Being a supply teacher can also help you decide what kind of school is most suited to you. You can choose where you work, you can experience different school phases, different key stages, different school cultures and staff environments.
What Happens Once I register?
Once you have registered online with us we will review the CV you uploaded upon application. This just gives us a brief overview of your experience and an indication of locations and school phases you have worked in. Following this, you will be contacted via telephone for an informal interview, where we will ask a bit more about your experience, what work you are ideally looking for and find out a bit more about you as a person. This may also be accompanied by a more formal face to face interview, ( skype interview at the moment due to COVID-19 measures) where we will request any documents needed to complete legal safety and compliance checks. Once we have completed the necessary checks you will gain access to our online services. This includes your teaching dashboard where you will be able to complete your teaching profile, curate various CV's, complete your availability calendar, and add your digital timesheets once you are working with a school. Registering as supply also gives you access to apply for long-term and permanent jobs if you wish to do so. Your teaching dashboard allows you to save jobs you are interested in, create jobs alerts based on your criteria, message schools direct about vacancies and manage your applications.
How Much Will I Get Paid
The amount you are paid will be determined depending on the role you perform, how many hours you work and your level of experience. You are able to complete your timesheets digitally on your teaching dashboard. This is not only good for the environment, as we are not using paper, but it's easier to keep track of, can't be lost and it can be edited or removed should you enter something incorrectly. The school you are assigned to will sign off your timesheets using their online account.
How Much Time Will I Have to Prepare Before a Job?
We try, where possible to give as much notice as we can. However, the nature of supply work means that sometimes we receive calls for supply teachers early in the morning which means you may have as little as 1 hour before commencing work. To combat this, we advise you to be as prepared as possible. Have a bag ready to go, put together a folder of lesson plans for various lessons you are able to teach. Make sure you have snacks and a ready-to-go lunch. We will provide as much helpful information as we can about the location, who to speak to when you arrive and what you will be expected to teach.
Can You Do Your NQT Induction in Supply?
Yes, NQTs can start or continue their induction whilst doing supply work so long as the period of employment is for a minimum contract length of one full term. This cannot be a series of short term supply contracts adding up to a term as induction must be planned in advance and take place in a stable environment. A supply teacher, on a contract of one term or more, should be treated in the same way as a permanent employee by the headteacher for the purposes of induction.
Do You Offer Training?
We will provide links to courses and certified providers to attain safeguarding, health & safety, Prevent, and other training such as first aid to our supply teachers. We will where possible provide links to free courses and provide information on further CPD training.
What Should I Expect on My First Day ?
We want your first experience in every school to go as smoothly as possible. We, therefore, ask all schools that we work with to provide some forethought in how they integrate supply teachers into their school. This includes being welcomed from a senior staff member, having a map/quick reference of the school layout available, to be given emergency procedure details, line manager contact details and to be shown where the staff/break room is located. We also ask the schools we work with to give supply teachers a handout on school policies such as uniform, behaviour, safeguarding, medical provisions and code of conducts. Plus any other helpful information they can provide such as computer/printer passwords and access codes/cards to make navigating the facilities as easy as possible.
What Areas Do You Cover?
Most Areas of the North East of England from Blyth to Teesside. Newcastle | North Tyneside | South Tyneside | Berwick | Northumberland | Amble | Morpeth | Blyth | Alnwick | Haydon Bridge | Ashington | Cramlington | Ponteland | Hexham | Corbridge | Consett | Chester-le-Street | Wallsend | Jarrow | Prudhoe | Gateshead | South Tyneside | South Shields | Washington | North Shields | Tynemouth | Whitley Bay | Durham | Teesside | Middlesbrough | Hartlepool | Darlington | Bishop Aukland | Stockton | Houghton-Le-Spring