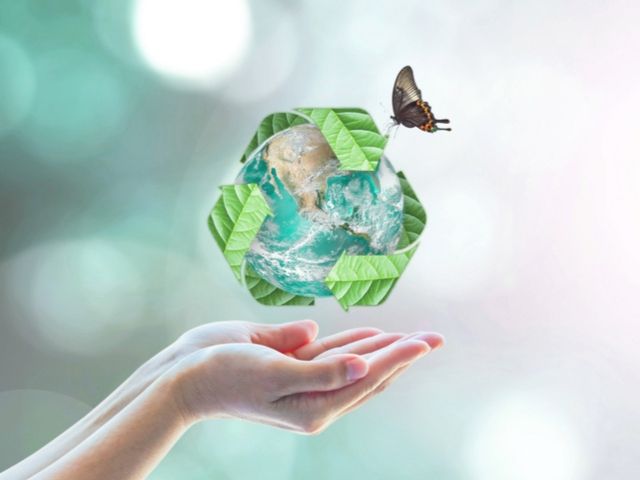 Posts being shared on social media and in the news highlight the terrible conditions our seas and – as a result – the worlds sea life is in.

Yet, for many, their share of a post is reasoned to be because it's a popular, trending, subject, being "Eco-friendly/Eco-Aware".

We need to make a genuine change, and this can start early with the help of education.
---
Stats and Social Influence
With some recent environment statistics stating that 65,757 animals have gone extinct so far this year, and the worldwide rate of deaths related to air pollution in cities stands at 437,546; you'd hope that being eco-friendly isn't just a 'current trend.' Fortunately, more and more social media 'influencers' such as fashion Blogger; Victoria Magrath (blog's name: InTheFrow) are speaking up and promoting an Eco-friendly lifestyle. This includes encouraging followers not to follow fast fashion and to purchase consciously with sustainable fashion.
Not only is there evidence that Bloggers such as Victoria are genuine about the cause (only 19% of influencers and celebrities are responsible for the future of the environment), but there's also proof that their efforts are working; with 61% of their target audience (Millennial's aged 22 – 35) agreeing that they would be willing to pay more for Eco-friendly products.
Whilst children and young people can be influenced positively online about saving the environment. It's also crucial that those who actually spend the most time with children (family, friends and Teachers) promote Eco-friendly living and recycling techniques throughout their life.
School Waste
There are 34,000 schools in the UK who each have a huge potential to help our environment. The two largest areas of concern lie with Secondary Schools – who, each academic year, produce an average of 22kg of waste per pupil, and Primary Schools – who produce a shocking 45kg of waste per pupil!
The majority of this waste is thought to come from two main sources; paper and food. However, other areas of waste need to also be considered such as the packaging of lunchtime items. Each school produces different types of waste and the first step to becoming a more Eco-friendly school is discovering your biggest problem areas by conducting a waste audit. When finding these problem areas, it's important not to feel that they are insurmountable.
With nine out of ten people saying that they would recycle if it was made easier, we at Docere, have put together a list of five easy ways to be more Eco-friendly:
Ensure recycling facilities are available to all students and members of staff and that a waste collection service has been organized.
Encourage students to bring in packed lunches in a reusable lunch box.
Use low energy light bulbs in the classroom and ensure that the lights are turned off when they aren't required.
Begin growing a vegetable garden.
Start a composting site because 50% of all waste can be composted.
And if the statistics at the beginning weren't enough of a reason to make your school Eco-friendly then here are ten more motivators…
Recycling is an activity that everyone can take part in so it brings together different groups of people and communities.
You could use an Eco-friendly project to raise money for your school.
Recycling saves money with funds that were once used to maintain waste disposal able to go where it is most needed and more helpful.
The impact that environmentally friendly behaviours such as recycling can teach students the power of goodwill, passion, and dedication.
It provides a cleaner and healthier environment for students to learn in and for staff to work in.
It is known to have improved the attitudes and behaviours of students.
Your School could enter government initiatives aimed at creating 'Sustainable Schools' or 'Eco-Schools' – this will ultimately contribute to School achievements.
The school's recycling process can be used to learn cross-curricular skills such as data presentation, observation, mapping, planning, data interpretation, and teamwork.
It provides the opportunity to develop a new group/club for the students where each can have a role or monitoring job for the school's recycling. This can support students in making new friends and develop their social skills.
Becoming an Eco-School takes a lot of teamwork so everyone from the cleaners and kitchen staff to the Headteacher and Secretaries will need to work together on this one cause.
Putting at least one Eco-friendly or recycling method into practice – making at least one small change – in your school can make such a huge difference to everyone.